In our throw-away society, environmental concerns have become increasingly important.  Taking responsibility for our waste management and adopting sustainable practices is essential. One powerful way we can contribute to a greener future is by recycling our scrap metals.
When it comes to recycling, at JMC Recycling, we offer a range of benefits that go beyond just reducing waste. In this blog post, we will explore the numerous advantages of choosing JMC Recycling as your go-to destination for scrap recycling as well as equipment, and how this decision can positively impact the environment while giving you some cash for your pocket.
Why Recycle?
Recycling scrap metal is not just environmentally responsible, it is a way to contribute to a more sustainable future. When recycling metal, we save valuable natural resources and reduce the need for mining and extraction processes.
Recycling metal significantly reduces greenhouse gas emissions and minimises the pollution caused by metal production. By choosing to recycle scrap metal, we can reduce waste in landfills, allowing the reuse of these metals for many years to come.
We Use Our Tried And Tested Machinery
Not only do we sell machinery for processing materials at different stages of the recycling process, but we also make use of the machinery we sell to recycle scrap metal in-house! The reason we use our own machinery is because our products are some of the most efficient and effective on the market.
Examples of machinery we use include:
Forrec 4 shaft Shredder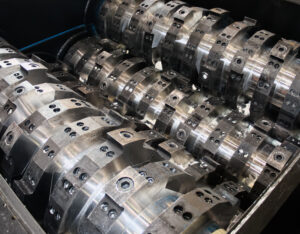 The Forrec Four-Shaft Aluminium Shredder is the perfect machine for processing large amounts of Aluminium. This machine makes our job easier by a boasting a multitude of fantastic features including; automatic greasing, configurable blades, wear-proof gills and more.
Click here to find out more
Euro-Strip 5000 Cable Stripper
A machine we use on a regular basis is the Euro-Strip 5000 Cable Stripper – the perfect heavy-duty cable stripper for our needs. Using this fantastic machine allows us to process up to 42 metres of cable per minute! With its simple adjustment system, we can adjust the machine to use different diameters of wires efficiently.
Click here to find out more
MG Matrix Cable Granulator
Also for cable recycling, we are currently running a Matrix 380VZT cable granulator from Italian manufacturer MG.  These machines are so good that we decided we needed to run one ourselves.  Our own system allows us to demonstrate the product as well as providing us with a secondary income.  Matrix Cable granulators shred, separate and recover copper and aluminium from domestic and industrial insulated wires and cables.  This separation prevents valuable materials from going to landfill.  MG granulators can even handle car looms, which are typically difficult to process, with an optional unit that injects powder to dry the grease. Full systems are able to achieve 98% separation of metals from plastics and can deal with all cable thicknesses.   Some of the models are shown here with different versions coming onto the market all the time.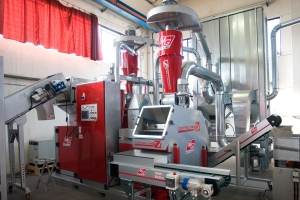 McIntyre 320 Shear
Our old faithful McIntyre 320 shear is used on a daily basis and is just one example of our range of alligator shears.  Alligator shears are produced, and used, in our Nottingham based factory.  Alligator shears are able to cut and clean scrap metal so that it can be separated into different metal types.  This allows each material to be recycled efficiently, which both benefits the environment as well as allowing users to make more money from their metal.  Commonly used in scrap metal yards throughout the world, an alligator shear is a must for any recycling business.  For more details on our range take a look here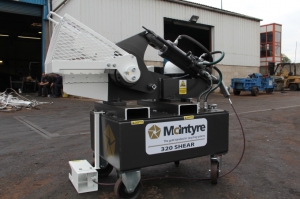 Separating and processing different grades of scrap metals makes it economically efficient to recover more metal from waste material.  In turn, the economic benefits encourage more recycling which is environmentally important.   So if you are local to Nottingham and have scrap metal to recycle, or if you are based anywhere in the world and want to  invest in some high-quality machinery, contact our team today!