Cable stripping can be a long and tedious task if you don't have the correct machinery to assist you. By investing in a high-quality cable stripping machine you can cut down on both overall time and costs when recycling many forms of cable.
Long Term Cost-Savings
The large output speeds of using a specialist cable stripper can help you save thousands of hours over time when compared to cable stripping by other methods.
Although laying down the money on a high-quality cable stripper can seem expensive, the output speeds, as well as the machine's effectiveness make the investment a clear-cut decision.
Cable Strippers We Recommend
Many different cable strippers have their own benefits. We recommend looking at each stripper's speciality before deciding on what to purchase. Understanding your machine's speciality is key to streamlining your recycling processes.
Wrights Super Stripper 170
The Wrights Super Stripper 170 is a fantastic all-around choice for cable stripping. The machine features an adjustable stripper, allowing for cable from 4mm up to 100mm in diameter! Learn more about the Wrights Super Stripper 170 on our website.

JMC CS500 Small Cable Stripper
If you are in need of something more portable, but still with surprisingly high output speeds and capacity, the JMC CS500 Small Cable Stripper may be perfect for you. Allowing for cables from 1mm up to 60mm at a speed of up to 18 meters per minute, this stripper is perfect for anybody in need of an efficient, inexpensive machine. Learn more about this product, or get in contact for more information on our website.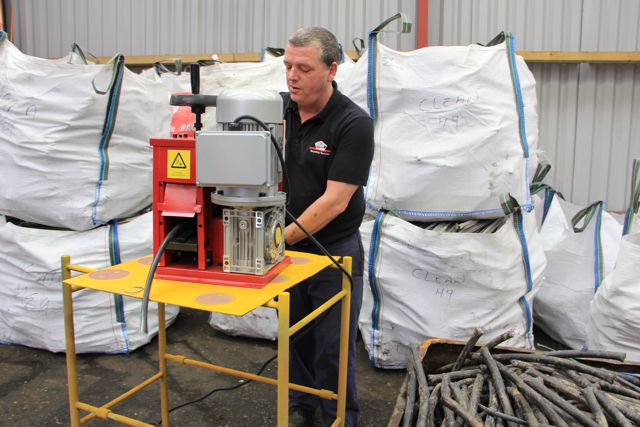 See Our Full Stock List
To find the perfect cable stripper for your need, visit our website to explore our full range of available machinery. If you would like to further discuss our stock and understand which machine would suit your workflow, get in touch with our experienced team today – we are always happy to help.