Car recycling can be tricky due to the large variety of materials, parts and processes. At JMC Recycling, we offer a selection of machinery to streamline your car recycling process.  These include car balers, cable granulators for radiators and car looms, catalytic converter processing systems, engine crackers, shredders for bumpers and tyres, car depollution systems, metal analysers and metals handling equipment such as grabs and grapples.
Some of our latest and best sellers for car recycling are listed below but if you want to know more then give us a call or check out our stand D1 at the Cars and MRE show in Coventry 24-25th May 2023.  Your free link to the show is here !
Wagner WRD850 and WRD450
The Wagner WRD850 and WRD450 are specifically designed to separate tyres from steel or alloy rims. These powerful machines are ideal for operations where a fast turnaround is required, and a large quantity of tyres needs to be processed efficiently. The WRD850 can handle up to 120 wheels per hour, while the WRD450 can process 60.
Although the WRD450 is still safe and efficient, the WRD850 runs behind a shield to protect the operator, making these machines a safe and practical solution for tire removal.
Vortex Combi Depollution System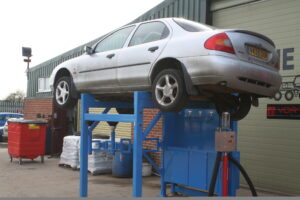 The Vortex Combi All-In-One Depollution System is the perfect machine for fluid recovery needs, featuring four pneumatic pumps that make it possible to extract fuel, oil, and coolant from vehicles in a safe and efficient manner.
The Vortex Combi Depollution System also features a high stand engineered to hold over 9 tonnes, providing support for the vehicle being depolluted while also allowing maximum fluid recovery.
Boasting a daily capacity of up to 50 cars, the Combi System is the highest-performing option available in the Vortex lineup.
Whether you're a professional mechanic or a scrapyard manager, the Vortex Combi All-In-One Depollution System is a great choice for your depollution needs.
Edilgrappa F130 Cutter
We are excited to introduce our new cutter, the Edilgrappa – a powerful hand-held hydraulic tool designed to cut a wide range of materials including cables, catalysts, vehicle frames, metal sheets, aluminium, and steel profiles.
The Edilgrappa is built to be robust, lightweight, and highly efficient, making it the perfect solution for a variety of applications ranging from car recycling to nuclear decommissioning.
With its unique features, Edilgrappa provides a great level of cutting power, speed, and accuracy that is unmatched by traditional cutting tools.
See Our Machines In Action
If you're interested in viewing these machines in person and more, we  will be performing live demonstrations on the Wagner tyre splitter and a catalytic converter guillotine at Cars and MRE.   We will also be using metal analysers from Hitachi on stand D1. But if you can't go to the show, then Get in touch today if you have any questions about the machinery we stock.  Our knowledgeable team will be happy to assist you and answer any questions you may have.